Here in Busan, the culinary landscape is studded with iconic street food and variations of Korean fare across a labyrinth of lively markets. Thanks to the oceanside location of the city, the seafood here is simply out of this world. The second-largest city in Korea is also home to stellar coastline views, sophisticated arts and cinema and a dynamic nightlife. Without further ado, let us delve into the exciting world of unique Korean recipes that enliven the streets of Busan.
Milmyeon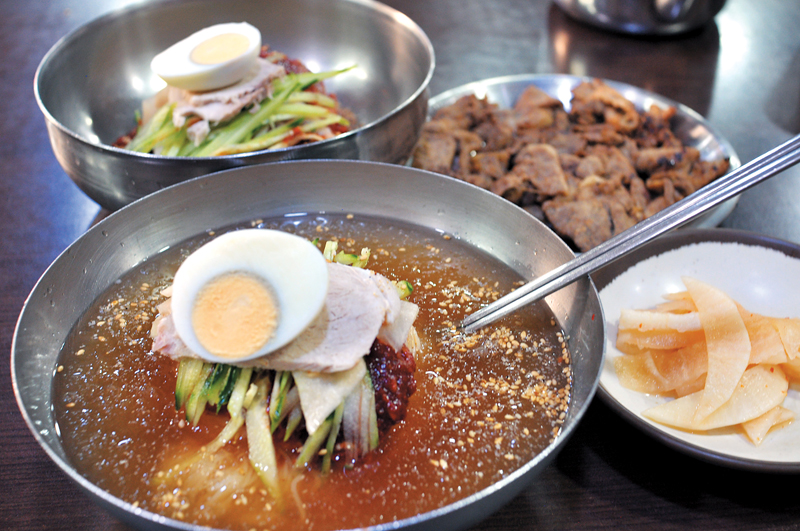 In Busan, milmyeon is the top choice of visitors who wish to cool down after basking under the sun for hours. This chilled noodle soup, unique to this part of the world only, is quite similar to the typical Korean naengmyeon. That said, the distinctive nest of twisted wheat noodles in an icy, meat-based broth is a far cry from naengmyeon, which is made from sweet potato or buckwheat flour. Furthermore, the soup is served in a metal bowl and contains actually visible ice chips on top along with a variety of julienned vegetables such as radish, carrot, and cucumber. Chefs in Busan also add a dollop of chogochujang before topping it off with quantities of thinly sliced pork and half a hard-boiled egg. Diners are encouraged to deconstruct this artful soup with the pair of scissors and then enjoy the flavorful bomb as the ice melts on the top.
Dwaeji Gukbap
The cuisine here in Busan features a number of humble yet hearty recipes, however, the one concoction that takes away the prize, is Dwaeji Gukbap. This hearty stew has a unique ensemble of thinly sliced pork in heapfuls, spring onion and rice in a milky broth, although some diners prefer to incorporate several bits of banchan along with the stew. Furthermore, the inclusion of raw vegetables including onions, whole garlic cloves, hot peppers, chopped leeks and kimchi, and flavorful accompaniments such as chogochujang (a hot pepper paste with vinegar), saeujeot (tiny, brined shrimp); and ssamjang (a spicy sesame, soybean and red pepper paste) elevate the flavor profile to unsurmountable heights – no mean feat for a recipe that aims to fulfil appetites first.
Hoe
In Busan, the locals absolutely dote on the Hoe, a platter of saengseon hoe (a mild, thinly sliced white fish) that is served with a side of banchan. You can choose the dip according to your preferences – chogochujang, wasabi, ssamjang or even soy sauce. The art to enjoying Hoe like a pro is to stack the slices on top of perilla leaf or lettuce and drizzle it with sauce before wrapping it up like a small parcel and chomping it down the food chute. Often, eateries in Busan accompany the saengseon hoe meal with a bowl of spicy maeuntang stew and a side of rice. That said, saengseon hoe is not the only variety you can enjoy. If you are feeling more adventurous, try the sannakji hoe (de-brained and chopped long arm octopus.) or the gaebul (or the 'penis fish'). One glance at the gaebul's rosy, phallic figure and you'll immediately notice that it's not a fish at all, rather a girthy sea worm that is found in the mudflats along the southwest coast of South Korea. No matter how bizarre these recipes sound, you will never forget the experience of tasting them.